Welcome to Greater Calvary Bible Church International
Greater Calvary Presents
Pursuing Godliness
10am Every Sunday
6510 Berkman Dr. Austin,TX 78723
About Greater Calvary
The Greater Calvary Baptist Church was organized on September 26, 1984, under the leadership of the organizing pastor, the Most Reverend Dr. Sterling Lands II and incorporated May 14, 1985.
Founded on the basic biblical principles of Salvation, Education, and Liberation. We are a Christ-centered Family focused full gospel, abundant life Church family. We believe that people must be saved. Saved people must be taught the truth of God's Word and made free through the application of that truth.
Learn More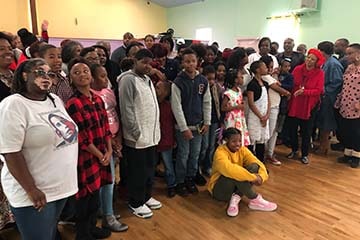 The Good News
Hear
Christ died for your sins, just as the Scriptures said. He was buried, and he was raised from the dead on the third day, just as the Scriptures said (1 Corinthians 15).
Believe
And without faith it is impossible to please Him, for whoever would draw near to God must believe that He exists and that he rewards those who seek Him. (Hebrews 11:6).
Believe in the name of his Son, Jesus Christ, ...love one another as he commanded us. The one who keeps God's commands lives in him, and he in them. And ... know it by the Spirit he gave us (1 John 3:23-24).
Become
There is a place for you to use your gifts, skills, talents, time, and treasure for the cause of Jesus Christ in the church that Christ built. (Rom. 12:1–8; 1 Pet. 4:10-11); We invite you to be a part of the Greater here at Greater Calvary Bible Church International where we celebrate Christ.